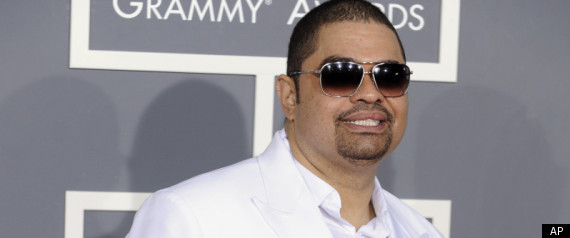 Heavy D, the rapper whose real name is Dwight Arrington Myers, is dead at the young age of 44. He was known for heavyset physique, his dancing and tongue-twisting rhymes.
Lt. Mark Rosen of the Beverly Hills police told the Associated Press that Heavy D died in a Los Angeles hospital Tuesday after collapsing at his condominium building. Rosen said Beverly Hills police officers were dispatched to Heavy D's condominium building Tuesday morning after receiving a report of an unconscious person laying on the walkway of a building. They found Heavy D was conscious and communicative but had difficulty breathing and was transported to Cedars Sinai Medical Center, where he later died.
The police found no signs of foul play. According to Rosen, Heavy D "was returning home from shopping. He experienced difficulty breathing while walking into his condominium building. He was being assisted up to his apartment by building personnel when he collapsed in an exterior hallway."
Heavy D's death comes almost a month after a comeback performance at the 2011 BET Hip-Hop Awards, when he performed a medley of his best-known singles, among them "Nuttin' But Love," "Is It Good to You" and "Now That We Found Love."
On Twitter, he was known for posting affirming messages. His final tweet appeared early this morning.
Heavy D was born in Jamaica, and moved to Mt. Vernon, NY, when he was a child. Heavy D & The Boyz, the group which he fronted, was the first act signed to Uptown Records, the record company started by Andre Harrell.
"I remember getting him to work with then-choreographer Rosie Perez and him looking at me, like, 'Should we really do this?'," Harrell told Essence. "And I said, 'a big man dancing is going to be really fun for people. It's gonna make them love you.'"
The group enjoyed widespread fame in the early 1990s, and scored prominent cameos on hit songs with Michael Jackson and Janet Jackson. Heavy D also appeared on the theme songs for the popular sketch comedy shows "In Living Color" and MadTV, and went on to run Uptown, the record label on which he spent much of his career.
But tragedy befell the group at the beginning of its commercial success. Troy Dixon, known as Trouble T Roy, died in an accident at a show. His death was the inspiration for Pete Rock & C.L. Smooth's "They Reminisce Over You (T.R.O.Y.)," which is widely considered one of the greatest hip-hop songs of all time.
He was name-checked on the Notorious B.I.G.'s first hit single, "Juicy," in which Biggie Smalls remembered growing up and wanting the kind of fame enjoyed by rap pioneers like Heavy D and Salt 'N Pepa.
R.I.P to one of the best
Heavy D Dead: Dwight Arrington Myers, Rapper, Dies At 44